Hi! My name is Mariana Barrozo and I'm the new Digital Marketing Coordinator at Tourism New West. I'm very excited to work for the city I've decided to call home. From all the places around the world, I chose the first capital of BC to move to from my hometown, and I've just love it. I'm new to Canada, and English isn't my first language – you can try to guess where I'm from, but it will be easier if you talk to me in person, so you can hear my accent.

I came to BC to study Marketing at Douglas College, which may have influenced where I was deciding to live when I first arrived. But I can proudly say I made the best decision. I'm passionate about travelling and I can say I'm definitely a foodie.

Feel free to come talk to me about New Westminster either at the office (Tourism New West is conveniently located on Columbia Street in the Anvil Centre) or while strolling through the streets of New West.
One of the first foodie experiences I had was when I first arrived. I had lunch at a delicious sushi place, called Sushi Yen. Tucked away on Sixth Street, I could hear jazz music coming from the inside which drew my attention. They have an exquisite Tonkatsu Donburi, and it was love at first bite! You can find me there at least once a month.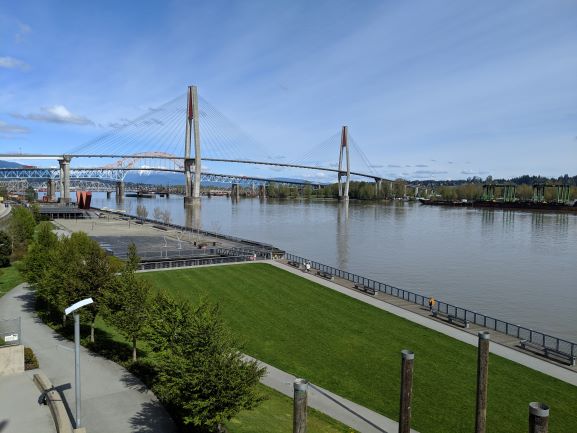 The first park I went to was Pier Park, by the Fraser River. What beautiful scenery! I love seeing the Skytrains go back and forth from Surrey to New Westminster at the Skybridge, the swing bridge (New Westminster Rail Bridge) opening and closing for the trains and vessels…just watching the time go by. At first, my favourite thing was to just lie down on the hammocks, but now I discovered another activity more appropriate for a foodie like me, to have a picnic on the lawn.

A piece of advice, if you don't have the time to pack something to eat for a picnic, just get a bite from the Concession at Pier Park during this season.
Enough about me, let's talk about New Westminster!
The city is so incredible, and there are so many events that will be taking place during the sunny season. Stay tuned for updates here in the blog and on Twitter, Facebook and Instagram and be sure to check our event calendar to get the most out of New West!