Tourism New Westminster acknowledges that we operate within the traditional territory of the Qayqayt First Nation.
Background
Tourism New West (TNW) is a not-for-profit organization and the official Destination Management Organization of New Westminster. 
Our vision is to provide visitors with an authentic tourism experience that highlights the City's unique attributes and provides sustainable economic growth through tourism to the community.  Our mission is to lead, develop, and promote New Westminster in a way that will attract visitors to enjoy the opportunities in New Westminster as a destination. 
Last year, TNW developed a 5-year Strategic Plan which will guide the organization's initiatives starting in 2021.  A significant portion of the plan is focused on Destination Marketing to promote New Westminster.  Find our Strategic Plan Executive Summary here. 
TNW is seeking a Marketing Consultant that can consult with the organization and develop an operational Marketing Plan that aligns with the Strategic Plan to meet its overarching goals. The Consultant will advise on the appropriate tools and required resources needed to operationalize and execute the Marketing Plan. 
Objectives 
The purpose of this contract is to develop a 2-year marketing plan that points directly to tactics and any supporting documents that will provide: 
Clear direction on how the organization can promote the destination and organization 
Marketing strategies that can be implemented over the next 2 years, the resources required, and clear direction on how to implement 
Core marketing activities that should be standard practice, and tactics associated with different recommended levels of spend in consideration of an incremental budget 
Examples of how to develop, package, and present tourism experiences 
Scope of Work 
Phase 1: Scan 
Review Tourism New West's existing assets, marketing tactics, and engagement findings 
Phase 2: Analysis & Recommendations  
Discuss impressions from the scan and provide TNW with recommendations on how to best position the organization and improve marketing efforts.  Determine what is possible with limited resources and allow for flexibility/scalability depending on fluid budgets. Identify core tools required for marketing, promotion and monitoring performance/tracking analytics. Make recommendations on content development for key communications platforms. 
Phase 3: Brand & Engagement 
Engage with TNW internal and key external stakeholders to discuss TNW as an organization and New Westminster as a destination.  Familiarize yourself with the existing brand and determine where and how to best to apply and reignite the brand. Outline how this work can be implemented within the Marketing Plan and communicated externally. 
Phase 4: Marketing Plan 
Develop the Marketing Plan based on work from the phases above. Operationalize recommendations to achieve overarching objectives, and consider the Strategic Plan's targets, positioning and messaging in addition to other measurables.  Provide explicit actionable tactics in a content calendar with consideration of time allocation required. 
Phase 5: Reporting  
Provide a final report and powerpoint presentation that will be presented to the Board. 
Considerations 
The following should be considered and inform all Phases: 
Industry best practices 
How do other Destination Management Organizations promote their destination: ex: platforms, tools, campaigns, partnerships?

 

Where 

are 

there

 opportunities to align with Destination BC programs?

 
Media 
What kind of content is newsworthy to earned media and how should TNW communicate it?

 

What forms of paid media are a good fit for the organization and how can you measure ROI?

 
Website design and function 
Does the current website suit our needs and how can it be improved?

 

What key information or features are we missing, and how can user experience be streamlined?

 

How does the design compare to industry standards and current trends?

 

How can the content better reflect the brand?

 

Are there additional tools that should be considered for website utility and positive guest experiences?

 
Social Media 
How can a Social Media strategy with execution tactics be included in the Marketing Plan?

 

What platforms and content are trendy and worth investing resources in?

 
Experience Development 
How to build experiences to create more 

tourism product

 

 

How to bundle activities and promote them

 
Other 
How 

and when to engage with locally-driven campaigns

 

Are there other strategies or tools to promote New West and the TNW brand?

 

What 

staff resource capacity is 

required

 

This 

city has a strong community and a lot to offer. New West is only 15 square km, be sensitive to the fact that it is decidedly by the Fraser River.

 
Travel Requirements 
No travel will be required. 
Constraints  
N/A 
Tourism New West Support  
Tourism New West will provide the following documents: 
Tourism New West Strategic Plan

 

Previous Marketing Plans 

 

Tactical Plans 

Stakeholder Engagement feedback 

Any other additional information that may be deemed 

necessary

 
Location of Work  
Work to be performed on contractor's premises. Communications will be done by email, phone, video/zoom or teleconferences. 
Deliverables  
2 Year Marketing Plan  
Any stand-alone supporting documents that support the Plan 
Final report/Presentation 
Target dates for the completion of this contract are as follows: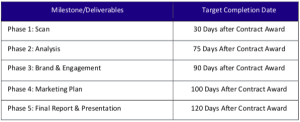 Evaluation Metrics/Criteria 
Proposals will be evaluated based on: 
Samples 

of

:

 your past work

,

 case studies

, or examples of past clients that will provide reference

 

A proven success record working with similar 

non-profits;

 

Your expertise and technical skills

 in

 marketing & communications and strategic 

planning

;

 

 

Ability to deliver in timeline noted above; and 

 

Cost of 

services

 

Familiarity 

with New Westminster and its assets

 
Submission Requirements 
In your project proposal, please provide a detailed work plan outlining: 
Proposal Description 

 

Key Activities, Description, Deliverables 

 

Milestones/Timing 

 

Costs/Estimates, Breakdowns 

 

Cash Flow 

 

Proposal Management Plan 

 

Supporting Documents:

 

Qualifications 

 

References 

 

Samples of previous work 

 
The contract is not to exceed $20,000 CDN, plus applicable taxes.  Expenses related to travel are not part, nor are required, for this contract and will not be reimbursed. 
Send proposals to the attention of Barbara Fairbrother via email: barbara@tourismnewwest.com no later than 5:00pm March 31st, 2021.  
The contract start would be early April, 2021.
Click for a pdf of this RFP here.