Sarah Campbell – Staff Writer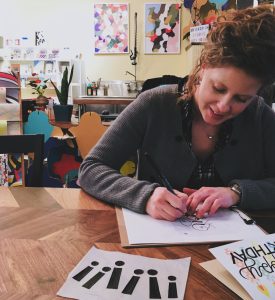 Wandering through the New West River Market, it's hard to miss the brilliant colours and warm atmosphere of the Craft Cafe. As I approach the community table at the front of the shop, Taryn's busy behind her desk, cleaning and organizing, a space full of artists can get a little messy. As we sit down to chat she laughs and calls out to passersby, and I can feel the sense of camaraderie amongst the business owners here. She grows even more animated as the conversation falls on art and her wonderful students. The next thing I know, Taryn has pulled out a rubber fish and I'm learning how to make detailed fish prints with calligraphy ink! 
Taryn Cheremkora and her mom Carol joined the River Market community officially in July 2017. Opening up shop with a range of creative curiosities from artists in France, Italy and where possible, in BC. Their goal? To create a community space without pressure! A creative outlet for young and old to experiment with crafting, playing around with different methods, textiles and colours. Locals coming together at the Quay to have fun and express themselves away from screens and everyday stress.
Building a Community Art Space for New West Locals
Art and community spaces have long been a theme in the Cheremkora women's journey to Craft Cafe. Lifelong New Westminster locals, both Taryn and Carol built their careers in the arts. Taryn studied fine arts at Emily Carr. Since graduating she has continued to paint, draw, and practice, even developing her own unique card line available in store. Carol recently retired as a Public Arts Programmer. Used to working with the public and designing classes, it was a natural fit for the mother-daughter duo to begin a studio which combined workshops and retail space. In fact, community spaces and programs are what gave the Craft Cafe its start, both Taryn and her sister winning the River Market ONE Prize for their community art projects!
Why Crafts, With a Fine Arts Background?
According to Taryn, fine arts is what inspired her to move towards crafting. While studying art, she began to feel that fine arts had become intellectual and intimidating for everyday people. A creativity barrier for most people, who believe they need proper lessons and skills to participate. Crafting, on the other hand, is accessible to everyone! It's low-pressure so she can create a safe space for kids and adults to try new things, to follow instructions or just to sit down and be creative. A place to colour outside the lines.
Build a Community; Taryn's Advice to Others
It's all about creating a support system and following your gut. You can and should ask everyone and anyone for their advice and expertise and really listen to what they have to say. But you'll need to recognize, that at the end of the day, it's up to you to decide what's relevant to you and your business. Besides, you can't prepare for everything! You'll never believe what comes out of the woodwork when you finally do get started. All you can do is start, and build the right support system so you can deal with it as it comes.
What's Next for the River Market Craft Cafe
Craft Cafe offers a variety of workshops and classes which range from drop-in child and adult programs to more structured classes. They are very excited to announce several new activities which are set to launch this spring! That's not all for this power duo though. As we were chatting Taryn let slip some big plans this year. I can't say anything now, but stay tuned in on @TourismNewWest and @CraftCafe to be the first to hear the exciting announcements and promotions to come over the next few months!
---
Sarah Campbell
Local Staff Writer at Tourism New West. Obsessed with boardgames, bad jokes, and craft beer. Self-proclaimed coffee-addict on a quest to find the world's best cup of java – suggestions welcome!