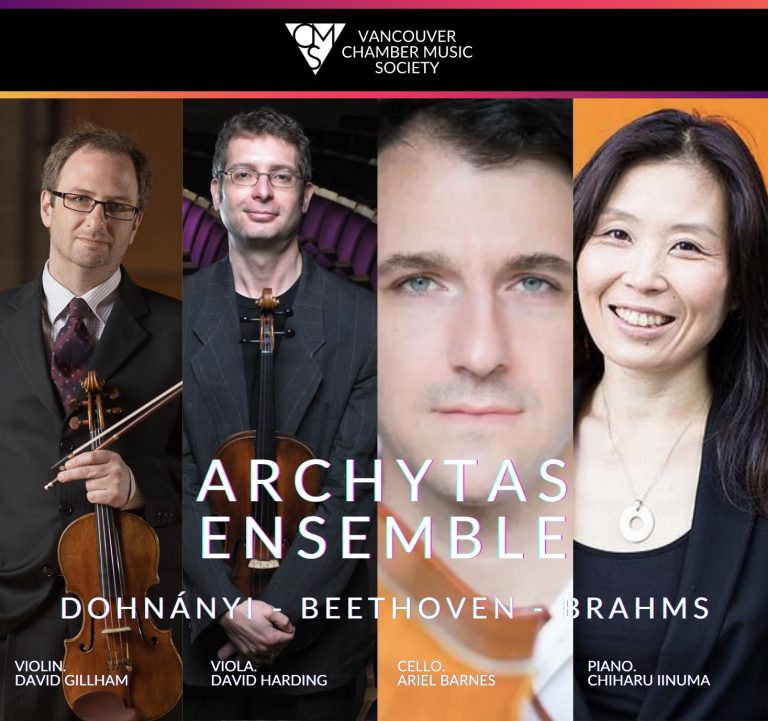 Archytas Ensemble – Sunday, January 29, 2023 @ 3:00 PM
January 29 @ 3:00 pm

-

5:00 pm

$20 – $38
"Gripping…soulful playing" – CBC Radio 2's host, Paolo Petropaulo
Inspired by friendship and innate musical chemistry, Archytas Ensemble officially formed in 2016 as an international roster of world-class chamber musicians. On January 29, 2023 at the Anvil Theatre, The Archytas Ensemble features violinist David Gillham, violist David Harding, cellist Ariel Barnes, and pianist Chiharu Iinuma.
Archytas Ensemble presents Dohnanyi's Serenade in C for string trio, Beethoven's String Trio in G major and Brahms' Piano Quartet No.3, Op. 60 "Werther". Edition Silvertrust iterates the common understanding that "the Serenade is without question one of the great masterpieces of the string trio literature." Paired with this masterpiece is Beethoven's characteristic rich, symphonic elations. Beethoven's String Trio in G major Op. 9, No. 1 was published in 1799 and marked a significant milestone of his development as a composer. Brahms' famous "Werther Quartet" nicknamed after Goethe's suicidal young Werther for its melodramatic flair tops of this brilliant virtuosic program.
Join the Vancouver Chamber Music Society and Archytas Ensemble for a program filled with suspense, melancholy, and beautiful lyricism that will keep you hanging until the very last note.