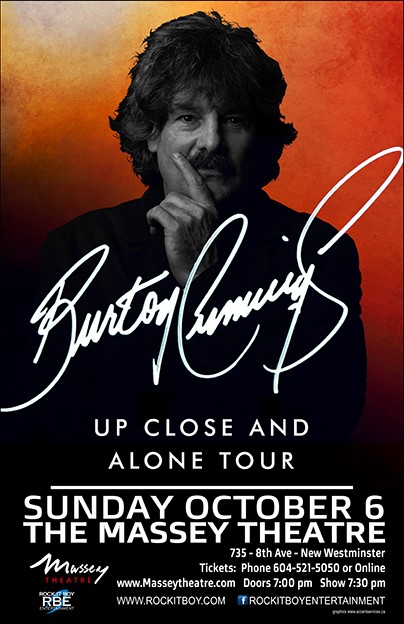 Burton Cummings – Up Close and Alone Tour
October 6, 2019 @ 7:30 am

-

9:30 pm

$89.50
RockItBoy Entertainment presents BURTON CUMMINGS – UP CLOSE AND ALONE TOUR
This is Burton Cummings; the voice; the songs of a generation.  The Music you know, from the man who created it.
Burton Cummings' musical creations continue to resonate with fans both old and new. With a voice considered to be one of the finest in rock music he has continued to uphold his impressive reputation as a performer, singer, songwriter and recording artist.
With Canada's original rock 'n' roll superstars The Guess Who, Burton scored an unprecedented string of international hit singles and albums, including "These Eyes", "Laughing", "No Time", "American Woman", "Share The Land", "Hang On To Your Life", "Albert Flasher", "Sour Suite", "Orly", "Glamour Boy", "Star Baby", "Clap For The Wolfman" and "Dancin' Fool"; all written or co-written by Burton.
Upon leaving the Guess Who to go solo in 1976, Cummings earned a gold record with his debut solo single, "Stand Tall". Then came more than a dozen hit singles and albums including "I'm Scared", "I Will Play a Rhapsody", "Timeless Love", "Break It To Them Gently", "Fine State of Affairs", "You Saved My Soul", "My Own Way To Rock" and "Dream Of A Child" which became the first quadruple platinum-selling album by a Canadian artist.