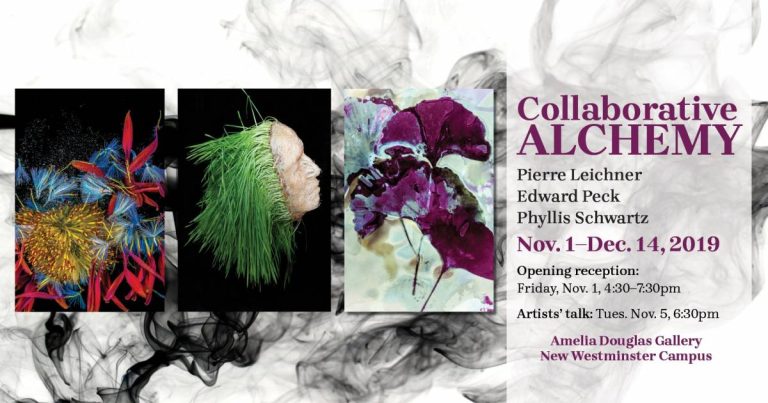 Collaborative Alchemy
November 1, 2019 @ 4:30 pm

-

7:30 pm

Free
Phyllis Schwartz, Pierre Leichner and Edward Peck are artists whose practice contemplates the full cycle of natural growth and transitions that are in an ever-changing state. They use plant-based materials to create works of art that speak to issues of permanence and impermanence. They are choreographers and arrangers who have manipulated natural materials into compositions that challenge the viewer to contemplate time, form, and the ephemeral.
They are presenting an interactive exhibition of plant-based 2D and 3D visual art that has the capacity to engage viewers to contemplate ephemerality, change and transition in the ever-changing natural world. Phyllis Schwartz exhibits plant-based lumen prints, and Edward Peck exhibits two-dimensional high-resolution plant-based abstract compositions. Pierre Leichner has installed his Root Laboratory. This includes a growing area, documentation space, display and drying areas. This installation strives to create a space of collaborative alchemy and experimentation with plants that will grow into sculptural forms during the course of the exhibition. It is designed to immerse the viewer inside the work and reveal the beauty of the process from emergence to decay.
The exhibit will run from November the 1st through to December the 14th.
Please join us for an opening reception from 4:30 – 7:30 pm on November 1st in the Amelia Douglas Gallery. Cash bar and light refreshments will be available.
For further information, please email artsevents@douglascollege.ca.