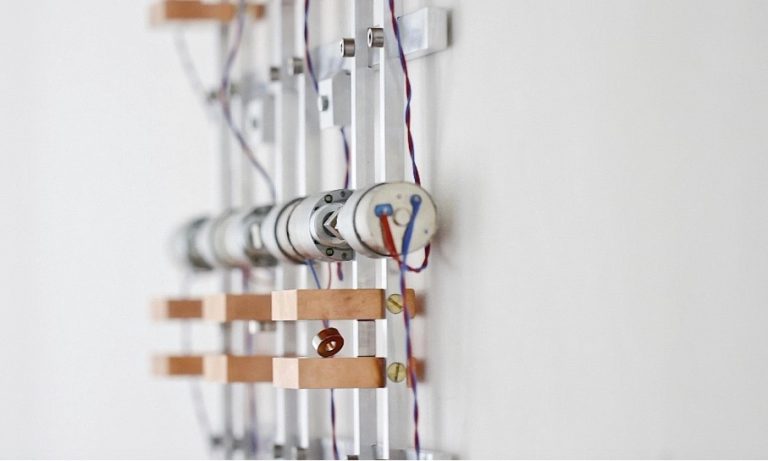 magnetic_T at New Media Gallery
February 25, 2019

-

May 12, 2019
Tatiana Trouvé                     240 Points Toward Infinity
Zilvinas Kempinas               Bearings
Pe Lang                                moving objects / no. 502-519
Nelo Akamatsu                    Chijikinkutsu
magnetic_T
Feb 23  – May 12, 2019
Opening Reception:  February 22    6:30pm – 8:00pm
Tatiana Trouvé                     240 Points Toward Infinity
Zilvinas Kempinas               Bearings
Pe Lang                                moving objects / no. 502-519
Nelo Akamatsu                    Chijikinkutsu
Please join us on Friday, February 22 for the opening of magnetic_T.
Magnets, magnetism and magnetic fields have been used here to create four works that reference the physical and metaphoric possibilities of attraction + resistance.  The installations in this exhibition have been variously described as baffling, exquisite, hypnotic and mind-blowing.
The quality of 'a living thing'; of something imbued with agency, is palpable.  They make music, take shape and reform; play as if internally motivated; are drawn and pulled in directions by something unseen or held suspended by invisible forces. The tension between agency and suspension is a diagnostic element of each work.
Chijikinkutsu by Nelo Akamatsu is made using water, sewing needles, glass tumblers and coils of copper wire.  When electricity is supplied to a coil attached to each tumbler it creates a temporary magnetic field that draws the needle to the coil. The faint sound of needles hitting glass resonates in the space. The title of this sound installation is derived from two Japanese words:  Chijiki meaning geomagnetism: terrestrial magnetic properties that have always existed and affect everything on Earth.  Suikinkutsu is a traditional installation for Japanese gardens, which came into use in the Edo period. Drops of water falling through an inverted earthenware pot buried under a stone washbasin would resonate through hollow, bamboo tubes.  The installation explores 'suikinkutsu',  not through the context of western science, music or technology, but rather through what the artist refers to as a Japanese perspective on nature.
On the opposite side of the gallery a new version of an earlier work has been created by Paris-based artist Tatiana Trouvé.  240 Points Toward Infinity oscillates between the real, the imaginary and the illusory.  Trouvé often transforms the limits of architectural and interior space through her work. Here she makes use of an ancient practice that uses gravity and mass to determine that which is level and balanced: the plumb bob + line.  240 plumb bobs of different ages and from all over the world have been re-cast in ferrous metal and hang from the ceiling by lines.  Yet these lines map out alternative trajectories that defy gravity ; quietly strange and impossible lines.  The work has been described as 'hush-inducing'.
Between the two large installations lie two kinetic, sculptural works that control and manipulate physical forces with captivating elegance.  moving objects / no 502 – 519,  by Pe Lang  is a wall-based, sculptural work.  There is something mesmerizing about self-similar objects moving together ; each circular magnet trapped in its own identical space, following some crazy slow dance that appears to have intent and purpose. Like the works by Akamatsu and Kempinas, this is also a sound piece : magnets and motors create a mechanized, sonic accompaniment.
Bearings by New York based, Lithuanian artist Zilvinas Kempinas is a sculptural work installed on a low stage.  Kempinas often focuses on quality of movement;  how we interpret the play of light across moving objects and how this might provoke certain feelings.  A multiplicity of small steel bearings moves with a faint clicking sound across the surface; the oil in which they move is a slippery sea that speaks of living things. A hidden system of rotating magnets gives the bearings perpetual motion.  The forming and reforming patterns of these magnetic particles suggest movements, migrations or shifting masses with some strange agency and purpose.
An important element in all the works is the notion that something hidden can exert an inescapable force: the hidden device, a hidden power or presence, or a hidden method of operation. The ability to control the unseen; the exertion of force or power in ways that are not always discernible is ever-present in this exhibition, as are the quality of things shifting together or held together as one.  The connections with power, attraction + repulsion are inescapable and timely.   Each physical suspension, unified march, mass movement, and frozen trajectory allows us to reflect on the possibilities or impossibilities of balance in a world out of balance.
THANKS
Artists:  Tatiana Trouvé, Zilvinas Kempinas, Nelo Akamatsu, Pe Lang
Artist Assistants:  Osamu Tanabe, Pascaline Morincome,  Nikolas Polowski
Galleries:  Lio Malca Gallery, NYC,  Gagosian Gallery, NYC
WARNING
This exhibition does contain static magnetic and small electro-magnetic fields.
The works have been exhibited around the world with no signage. This exhibition
will however,not be accessible to those wearing implanted ferromagnetic or electronic
medical devices sensitive to magnetic fields (eg. Pacemakers).
NEW MEDIA GALLERY is a contemporary public art gallery devoted to the
presentation of international, national and regional new media art.  It is the
civic gallery for the City of New Westminster located in metro Vancouver.
Founded in 2014,  NMG has presented over 100 international artists, both
established and emerging, from over 25 countries.
Wheelchair accessible, with elevators to the 3rd Floor.
Across from New Westminster Skytrain
Pay Parking under Anvil Centre
Above:  360 Points Toward Infinity by Tatiana Trouvé