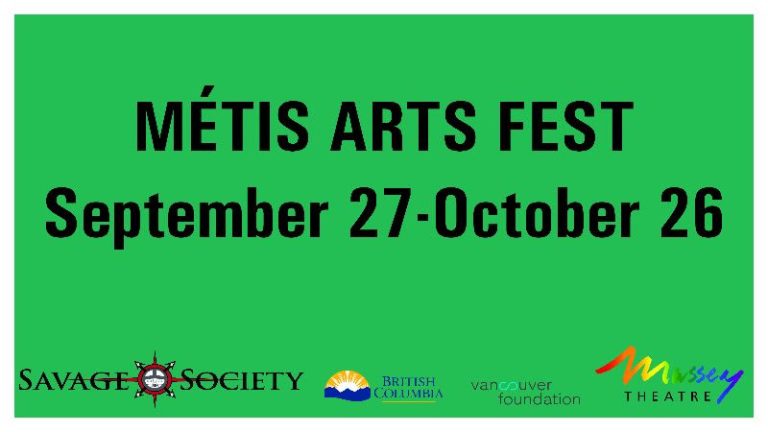 Métis Arts Fest
September 27, 2019 @ 7:00 pm

-

10:00 pm

Free
Presented by Savage Society and Massey Theatre
Celebrate Métis Art and Culture!
Includes music, dance, visual art, theatre, and celebration, sharing and illuminating Métis stories and culture
FULL SCHEDULE:
September 27th @ 7pm
Métis Culture Fair
The Métis Culture Fair is an exciting celebration of contemporary Métis arts and culture. Enjoy music and stories, and hear artists speak intimately about how their heritage, culture, and art intersect. Featured artists include Sandy Scofield, Andrea Menard, Charlene Wilson and host Tai Amy Grauman.
October 1st @ 7pm
Métis Jigging 
In this fun and exciting workshop for all ages, you will learn the basics of Metis jigging from local dancer Charlene Wilson. Get your body moving as she teaches the steps, and then enjoy a session of social dancing where you can put your new skills to the test and experience the joy of jigging.
October 3rd @ 6pm
Métis Feast 
The Grand Celebration of Metis Arts Fest will include a delicious feast, fabulous performances and a rousing celebration of Métis arts and Métis life. The event will include music from Sandy Scofield, Andrea Menard, and Kim Brandt, dancing by Charlene Wilson. Excellent food will be provided by Rosemary Georgeson and Barb Bennett Hospitality Services. Finally, the Métis Pairing exhibition featuring work by artists Nicci Battilana and Monique Hurteau will bring a dynamic array of colours and images to the walls of the Plaskett Gallery.
October 25th and 26th @ 1pm
Workshop Presentation:
You Used to Call Me Marie
Witness the creation of new theatre in progress with this workshop presentation of Tai Amy Grauman's play You Used to Call Me Marie
Month of October
Plaskett Gallery Artist Exhibition:
Métis Pairing
Nicci Battilana and Monique Hurteau
For more information:
604.517.5900
julian@masseytheatre.com
www.masseytheatre.com