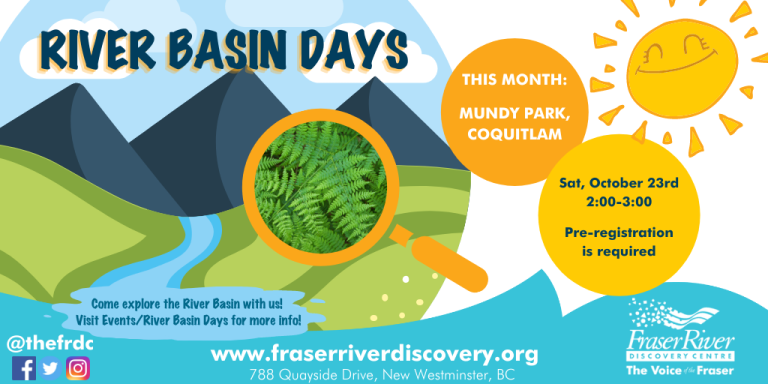 River Basin Days: Exploring Mundy Park with the Fraser River Discovery Centre
October 23, 2021 @ 2:00 pm

-

3:00 pm

$3 – $15
Held on the second Saturday of every month, 'River Basin Days' is a series of outdoor public programs hosted by the Fraser River Discovery Centre, geared towards families. Join us at rotating locations around the Fraser River Basin as we explore this incredible watershed.
Discover new ways to explore local parks with us as we head out to Mundy Park, Coquitlam, on Saturday October 23rd @2:00pm! We'll play some outdoor games, create nature art, and discover some of the plants and animals in our natural surroundings! Please bring a mask, good shoes, and ample curiosity! This activity is aimed at families and open to all ages.
COVID-19 Safety protocols are in place, so please register in advance.
Visit our website to learn more: https://fraserriverdiscovery.org/rbd/
—
WHAT: River Basin Days in Mundy Park!
– Discover local plants and animals
– Play outdoor games
– Create nature art
WHEN: Saturday, October 23rd, 2:00pm – 3:00pm
WHERE: Mundy Park, Coquitlam (East Parking, 626 Mariner Way)
WHO: While everyone is welcome, this workshop is aimed at families with children.