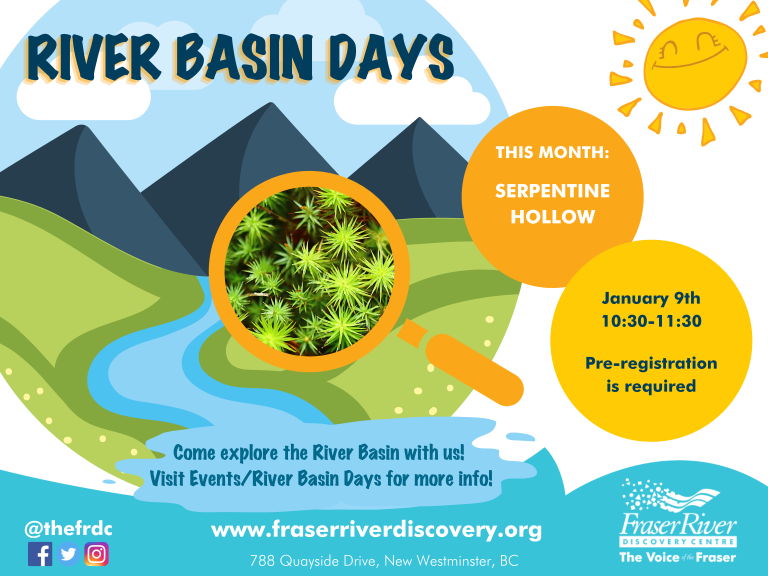 River Basin Days @ Serpentine Hollow
January 9, 2021 @ 10:30 am

-

11:30 am

$3 – $15
The Fraser River Discovery Centres invites you to join us on River Basin Days!
Taking place on the second Saturday of every month, River Basin Days is a series of outdoor public programs geared towards families. Join us at rotating locations around the Fraser River Basin as we explore this incredible watershed! Our staff will guide you through 1-hour of activities, experiments, and art projects as we learn about the biodiversity of this great river.
More than just a fuzzy green accent on trees and brick walls, mosses are a remarkable and diverse group of plants. Did you know that mosses were among the first plants to grow on land in the early days of Earth's history? That means that there have been mosses on our planet for 330 million years! There are nearly 14,000 species of moss, they exist on every continent, and we have brought moss "back to life" after they have been completely dry for 1,500 years. Astonishing!
So come meet some mosses! We'll find different kinds of mosses, use magnifying glasses to look closely at their diverse and delicate shapes, and create our very own Moss Friends from found materials.
The Moss Friends activity requires fine motor skills, as we will be tying together sticks and manipulating small mosses. For this reasons this workshop is aimed at older children.
This event is free with paid admission to the Centre. Pay online when you register, and receive your physical admission tickets at the event. Use these anytime to visit the Centre!
COVID-19 Safety protocols are in place, so please pre-register here.
WHEN: January 9th, 10:30-11:30
WHERE: Serpentine Hollow, in Tynehead Regional Park
WHAT:
– Learn about mosses!
– Explore tiny structures!
– Make a Moss Friend!
– NOTE: We'll be walking a short way off-trail, so be prepared for uneven and possibly wet ground.
COVID-19 SAFETY:
– Pre-registration is required.
– Individual group size is limited to five (5) maximum. Workshop registration limited to four (4) groups.
– During the workshop, groups are asked to follow physical distancing guidelines whenever possible.
– Masks are required.