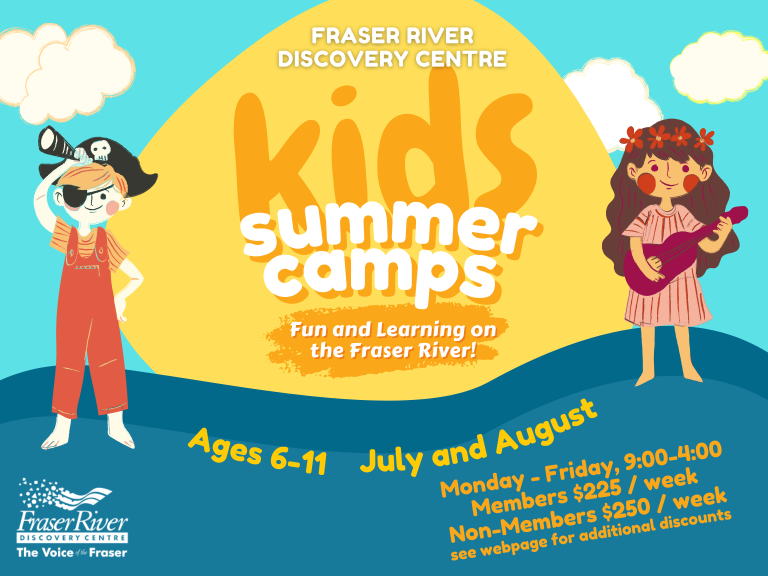 Summer Camps at the Fraser River Discovery Centre!
July 4, 2022 @ 9:00 am

-

August 26, 2022 @ 4:00 pm

$250
This Summer, the Fraser River Discovery Centre invites children aged 6 to 11 to play, explore, and discover at our week-long summer day camps! Together we'll celebrate the living, working Fraser River with activities, games, and much more!
Explore the underwater lives of Pacific salmon, experience the wonders of the Fraser River watershed, and get to grips with some seriously cool science! We're offering 8 weeks of camps in July and August, Monday to Friday from 9:00am – 4:00pm.
COVID safety protocols are in place, and space is limited to a maximum of 12 campers per week.
Basic Info:
• $250.00/week, additional 10% off all fees when registering for more than one camp, or more than one camper from the same family.
• Campers over the age of five (5) are required to wear a mask at all times when indoors.
• Camps are for ages 6 to 11.
• Camps are from 9:00 am to 4:00 pm, Monday through Friday, unless otherwise noted.
• Each camp has a maximum of twelve (12) campers.
• Camps require a minimum number of campers to run, and will be confirmed 2 weeks in advance.
For more information, please email
programs@fraserriverdiscovery.org or call us at 604.521.8401
Visit our website to learn more about summer day camps and to register! https://fraserriverdiscovery.org/summer-camps/