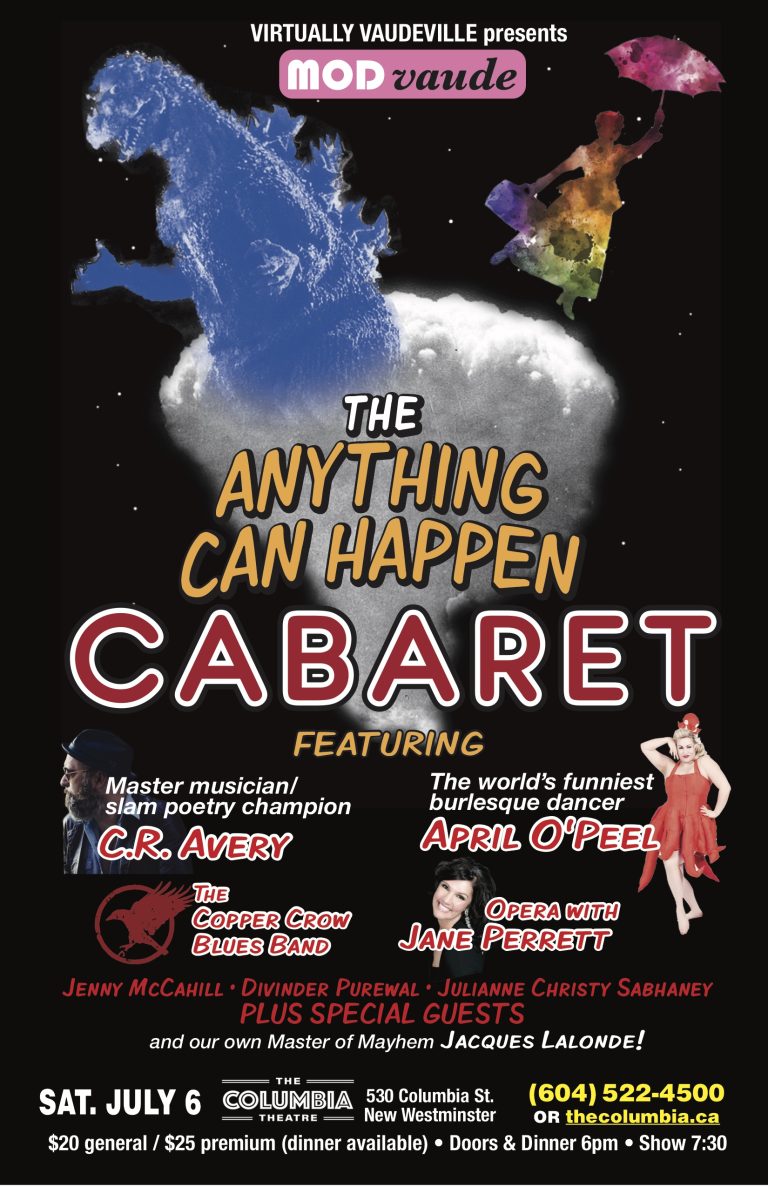 The Anything Can Happen Cabaret
July 6, 2019 @ 7:30 pm

-

10:30 pm

$20 – $25
A wild Cabaret where you can expect the unexpected…featuring Spoken Word, Burlesque, Opera, Stand Up Comedy and Live Music, as well as crazy audience interaction. World Class talents include C.R. Avery, April O'Peel, Divinder Purewal, Jen Mc, Julianne Christie Sabhaney, Adam Olgui, Martin Shaw, Copper Crow Blues Band, and the amazing Opera talents of Jane Perrett. Plus your master of Mayhem Jacques Lalonde.
​
Doors open at 6 for dinner and drinks. Show starts at 7:30
​
This is the first of what we hope to be a monthly event. Our shows will have a different theme each month. From THE ANYTHING CAN HAPPEN CABARET in July to THE WIZARD OF VAUDE in August, to other nights like GAY PARIS, THE BOLLYWOOD CABARET or THE GREAT MYSTERY CABARET, we will highlight artists of different cultures from around the world.
Our shows will not only entertain, they will inform and enlighten! An all-star team of Cabaret/Variety show producers has come together to make our shows at the Columbia Theatre a must-see event and tourist destination. Our plan is to make Virtually Vaudeville the MOULIN ROUGE of the 21st Century!
​
Our team – experienced, talented and well-connected
The team includes:
April O'Peel (winner of numerous awards at the Vancouver Burlesque Festival and "Most Comedic" at
the Burlesque Hall of Fame in Las Vegas)
Melody Mangler
(Founder of Screaming Chicken Burlesque, "one of Canada's best Burlesque performers", she won Best of Burlesque at the Burlesque Hall of Fame)
CR Avery
(multiple Vancouver Poetry Slam Team member. "First there was the Beats, then Hunter S.
Thompson, now there is C.R. Avery"-Kruger Magazine)
Michael Hwang
(Executive Producer at the Columbia Theatre and director of Amicus Performing Arts Society)
Jacques Lalonde
(Host 2010 Olympics, Sesame Street, The Cabaret of Hope).
Together they have produced over 200 Cabarets/Variety shows and are connected to all of BC's finest performers.
Virtually Vaudeville's Mod Vaude Cabaret Series will happen the first Saturday of every month, starting July 6th, 2019 at 8 PM with THE ANYTHING CAN HAPPEN CABARET.
​
VIP guests will enjoy a beautifully catered meal from 6PM to 8PM and meet the artists before and after the show, as well as enjoy other special offers and perks.
Our hope is to bring healing and understanding through our shows as well as provide thrilling escape and entertainment for everyone in the Lower Mainland. Our performers are world class, our desire to excel is extreme and our backdrop is one of the most beautiful theatres in one of the fairest cities in the world.
In short, Virtually Vaudeville is guaranteed to impress!