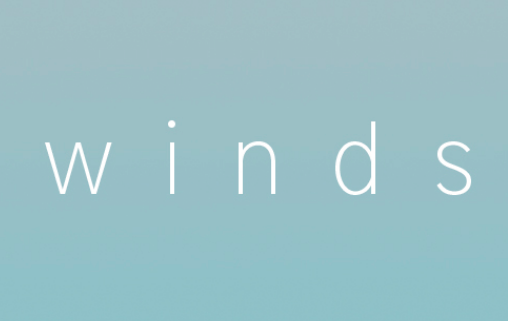 WINDS at New Media Gallery
June 22, 2019

-

September 29, 2019
WINDS at New Media Gallery will feature work done by Chris Welsby, David Bowen, Spencer Finch, and Nathalie Miebach. Each of the works in this exhibition is a landscape, captured, interpreted, and presented through technology.
Chris Welsby
Wind Vane, 1972
Welsby's film-based work is the earliest we have shown in the gallery.  Originally shot on 16mm film, it is now installed in galleries in digital format.  In 1972, Welsby mounted two cameras on tripods with wind vane attachments and then positioned them 50' apart along an axis of 45° to the direction of the wind.  Both cameras were then free to spin and pan a full 360° over Hampstead Heath.  The movement of the cameras and what was captured was controlled by wind speed & direction.  The original Bolex camera & tripod and a replica of the wind vane will be presented in the gallery.
David Bowen
tele-present wind, 2013-2019 
In the gallery, 84 natural tansy stalks, anchored on tiny mechanized prosethetics, follow the movement of a single tansy stalk with accelerometer, as it is buffeted by winds on the shores of Lake Superior. The movement of that tansy stalk thousands of kilometres away is streamed into the gallery in real-time resulting in an uncanny compression of time and place and sound.
Spencer Finch
2 hours, 2 minutes, 2 seconds (Wind at Walden Pond March 12 2007) 
The programmed movement of air from a series of common, industrial fans, recreates the changing breeze experienced by transcendentalist philosopher Henry Thoreau during his 1845-46 stay on the shores of Walden Pond.  Thoreau made scientific and poetic observations of the natural phenomena around him.  His 2 year, 2 month, 2 day vigil has been recreated by Finch in compressed format.  The work celebrates and questions the nature of perception and received experience.
Nathalie Miebach
Hurricane Noel, 2007
Using collected scientific data from the destructive 2007 Hurricane Noel, Miebach assigned weather values to create musical notations and a score.  From this, she created a sculptural basket.  Hurricane Noel moved along the eastern seaboard of the United States, crossing the Canadian Border, and moving up into the Maritimes.  Two versions of the score will play out in the gallery on Directional speakers.