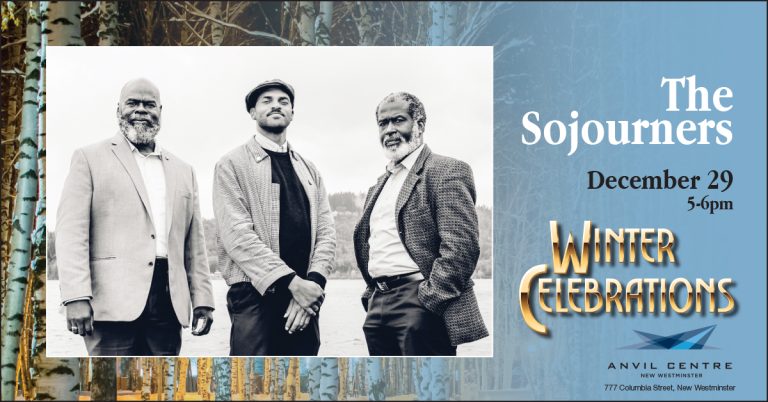 Winter Celebrations: The Sojourners
December 29, 2019 @ 5:00 pm

-

6:00 pm

Free
Marcus Mosely, Will Sanders and Khari McClelland, (from Ralls, Texas, Alexandria, Louisiana and Detroit, Michigan respectively) give The Sojourners' sound an authentic edge that only comes with experience. This is real gospel – blessed with a soul that can't be faked.
Marcus Mosely
Marcus was born in a small town in the Texas panhandle, called Ralls. He heard the music first from his mother, who always had a song on her lips, Marcus soon discovered that he too carried around a well of music in his soul. Over the past 54 years Marcus has found himself drawing from the well. in many places around the world. He has sung throughout North America, Europe, Asia, Africa and the South Pacific, owing to 10 years of service as a missionary. Just before Expo 86 Marcus made Vancouver his home. Since then he has starred in various highly successful stage productions such as 'Ain't Misbehavin', 'Black and Gold Revue' and 'Show Boat'. Marcus has toured Canada giving concerts and conducting Gospel Choral workshops.
Will Sanders
All through his childhood, in Alexandria, Louisiana, Will sang in church choirs and ensembles.. he even played in the school band. But his heart was always drawn to singing Gospel. In his first time out, in the musical theatre arena, he won a starring role in the Arts Club production of Ann Mortifee's tour de force, 'When the Rains Come'. He was even nominated for a Jessie Richardson Award for Best Performance in a Musical that year (1994). He also went on to star in the Arts Club production of 'Five Guys Name Moe'. Over the years, Will has sung with a number of Vancouver based Gospel ensembles: 'Circle Of Voices', 'Cloud Nine' and 'The Gospel Experience'.
Khari McClelland
Khari was born and raised on the streets of Detroit. He picked up his first instrument, the trumpet, at the age of nine, and sang throughout his early years. Khari came to Vancouver seven years ago and almost immediately started performing and making inroads into the Vancouver music scene. Vancouver's strong roots music community and his early influences, ranging from Motown to hip-hop, have combined to form a dynamic performer. In 2007, Khari formed an acapella gospel quartet, Cornerstone, with Frazey Ford, Ora Cogan, and Matt Anderson. Cornerstone was well-received and played major festivals and local venues alike. Khari met The Sojourners at the Vancouver Folk Music Festival. That fortuitous event led to him becoming a permanent member of the group