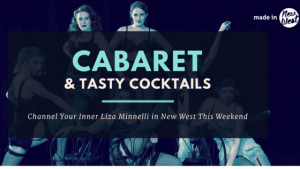 The Royal City Musical Theatre is proud to present the Tony Award Winning Musical Cabaret at the Massey Theatre April 12-29. Set in 1931 Berlin in the seedy glamour of the Kit Kat Klub. Cabaret has been stunning audiences with its bawdy humour, decadent nightlife and complicated romance ever since. Join us for cocktails in New West, and a devastatingly relevant work of art which remains both entertaining, and an unsettling wake up call.
As you prepare to come and leave your troubles outside – we've compiled a stunning guide of things to do in New West you can peruse to plan your trip that's all about following your heart while the world loses its way. Join us in New West for the Cabaret – life is beautiful at the Cabaret.
A Night of Cabaret And Cocktails in New West
Wilkommen, Bienvenue, Welcome! Im Cabaret, au Cabaret, to Cabaret! Before the show starts, arrive in New West and enjoy some divine decadence darling.
Start by sipping on delicious cocktails in the Java Jazz Bistro in Uptown New West. A great way to start the evening in one of New West's best-hidden gems. Or, since as Cabaret tells us, Twosies beats onesies, but nothing beats threes. Come in from Downtown New West, and drop into one or two of the pubs like Judge Begbie's and the Terminal Pub for mixed drinks. Try the Black Widow or the Vanilla Cinnamon Bourbon Old Fashioned at Terminal Pub – it'll have you can-canning before you know it.
If alcohol isn't your scene, wander up the Front Street Mews under the enchanting lights and stop in the Old Crow Coffee Co. Where there's always a rotation of art displays, comedy shows, and photography exhibitions.
Spending An Enchanting Cabaret Weekend in New West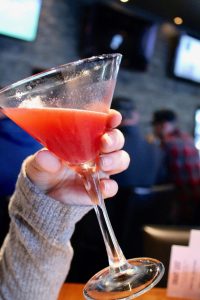 Leave your troubles outside! Life is disappointing? Forget it! Wilkommen to New West for the weekend darling. Arrive in New West ahead of the show and stay for a treat. Start your trip off with some creative fusion cocktails and snacks at Wild Rice or El Santos, or grab dinner at Stefanos before dancing into your night of Cabaret above. Friday and Saturday nights feature live dancing and music to get you in the spirit.
Spend the night at the Inn at the Quay a fantastic West Coast style hotel with romantic views of the river. If it's a date night with romance in mind, explore the date night special. Or, in true Kit Kat Klub fashion, try something risqué and delve into the Tryst with a Twist package.
In the morning wander through downtown, and poke around the scandalous pub and saloon past of New West with the Neartuit App – and the Not-So-Sober walking tour. Or embrace your inner Cabaret girl and experiment with a pole, exotic, or aerial dance class at Ava Fitness.
As night falls, cozy up and sip on cocktails in the Starlight Casino RedBar Lounge while you sway along to the live weekend entertainment. Or if you've timed it just right, and you're staying for a week-long jaunt, you can take in a Way Off-Broadway show in the Heritage Grill's back room. Fresh theatre from the fringes featuring storytellers, poets, comics, minstrels and puppeteers.
Get Your Tickets to See Cabaret in New West Today From www.ticketsnw.ca or Call 604-521-5050!
In here, life is beautiful. The girls are beautiful. Even the orchestra is beautiful! Welcome to New West.