Written by Jocelyn Wong. 
Of all the amazing things the city of New West offers, delicious food lands at the very top of my list. And that's exactly why New West Eats: a Community Cookbook exists!
Small, independently owned restaurants in New Westminster are what keeps this place alive. It's the tenacity of a mom'n'pop to continue operating, despite all odds. It's the resilience of a family-owned grocery shop that keeps mouths fed. It's the unending will of a passionate chef plus their team of hardworking bussers and servers that quell my fears and support my belief that community is key to fostering such beautiful, long-lasting spaces. 
It's been a tough last couple of years. Community members, visitors and business owners alike have struggled in their own right to make ends meet. Back in 2021, I applied for a small grant from the Vancouver Foundation in hopes of creating a non-profit community cookbook for the city of New West that celebrated resilience. What I hadn't realized then, was that this project would become anything but small. Working with 7 local restaurants, 2 photographers, 1 graphic designer and MANY members of the community, I'm happy to finally be sharing this complimentary, but heart-felt cookbook. New West Eats doesn't just provide 7 quick and easy recipes. It also gives you an intimate glimpse (and taste) of the establishments that shared them.
Food brings people together – even when we can't be physically! If this book accomplishes anything at all, I hope that it shows you just how many amazing businesses exist here. 
Download a free digital version of the cookbook now or grab a physical copy of the limited print from the Anvil Centre Front Desk or the New Westminster Public Library! In the meantime, get a sneak peek of the book by trying out one of the recipes. 
Taverna Greka's Saganaki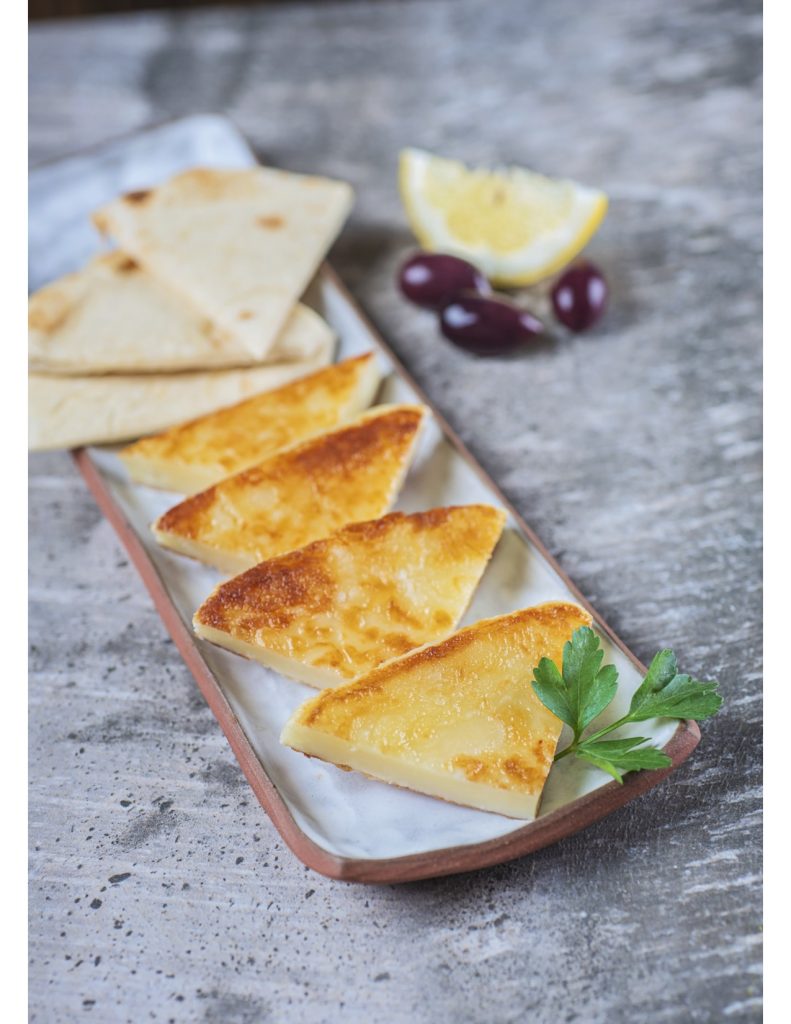 Taverna Greka owners Eleni and her daughters Koula and Lena are sharing this scrumptious pan-fried Greek goat cheese recipe, pronounced SA-GA-NA-KEY.
They say: "If you're making a Greek dinner at home, it's a great addition to start off with! It's also just a wonderful appetizer to share at a party with friends."
Ingredients:
1 Piece Hard Greek Cheese
1 Large Egg 
¼ Cup Whole Milk 
¼ Cup All Purpose Flour
*Pro-tip: You want the cheese to be 1 inch thick by 5 inches long, depending on how big of a piece you'd like. We recommend Kefalotyri or Kefalograviera. 
Instructions: 
Beat egg and combine with milk. Use a shallow plate of flour to coat your cheese in the mixture. You can use cornstarch if you have a gluten intolerance.
In a nonstick pan, drizzle enough oil to coat the surface. Heat the oil until it reaches a high temperature. Carefully put your piece of cheese in the oil.  
Cook until the bottom half turns golden brown. Flip your cheese to the other side and do the same. Remove your cheese from the oil onto a plate. Top with half a squeezed lemon and eat while hot. Pairs well with a salad and glass of red wine!