New Westminster is home to a diverse mix of cultures and this blog post will help you try some tasty eats from around the world. This list features global cuisines that you can find right here in New West! Since there are so many amazing restaurants in New West, we're splitting up this blog into two parts. This blog post will highlight restaurants serving cuisine from North and South America and Europe, while the second part will highlight cuisine from Asia. 
North and South America
Canada
Anny's Dairy Bar is an Uptown New Westminster staple, serving classic French-Canadian favourites for years.  Try their iconic Maple Twist, as well their Original Poutine and Montréal Smoked Meat Sandwich.
Mexico
Try some delectable Mexican classics made with fresh ingredients at Taqueria Playa Tropical. We love their flavourful Barbacoa Burrito, Pico de Gallo, and Carne Asada Tacos.
Trinidad and Tobago
D Roti Shak offers a delicious menu of Caribbean cuisine that is a symphony of flavour. Their Jerk Chicken, Vegetable Roti, and Curry Chicken on Rice are some of their specialties.
EUROPE
Germany
For over 50 years, The Old Bavaria Haus Restaurant has been offering scrumptious German and other European specialties in an elegant environment.  Sample menu Items include German favourites like Wiener Schnitzel, Veggie Schnitzel Pacific, and Black Forest Cake.
Greece
A New West favourite, Taverna Greka serves up delicious classic Greek appetizers and entrees. Enjoy perfectly cooked Beef Souvlaki and tender seafood dishes like Kalamari and Garlic Butter Prawns.
Italy
Artusi serves contemporary, rustic Italian cuisine in Uptown New West. Try their scrumptious Bruschetta & Passata, Tagliatelle Primavera, and Tiramisu Limone.
Netherlands
With views of the Fraser River, Angelina's Dutch Corner is known for its amazing breakfast and brunch fare. We enjoy their sweet breakfasts like their Mixed Berries & Whipped Cream Pannekoeken, their Apples, Cinnamon & Whipped Cream French Toast, as well as their savory ones like their Smoked Wild Sockeye Salmon.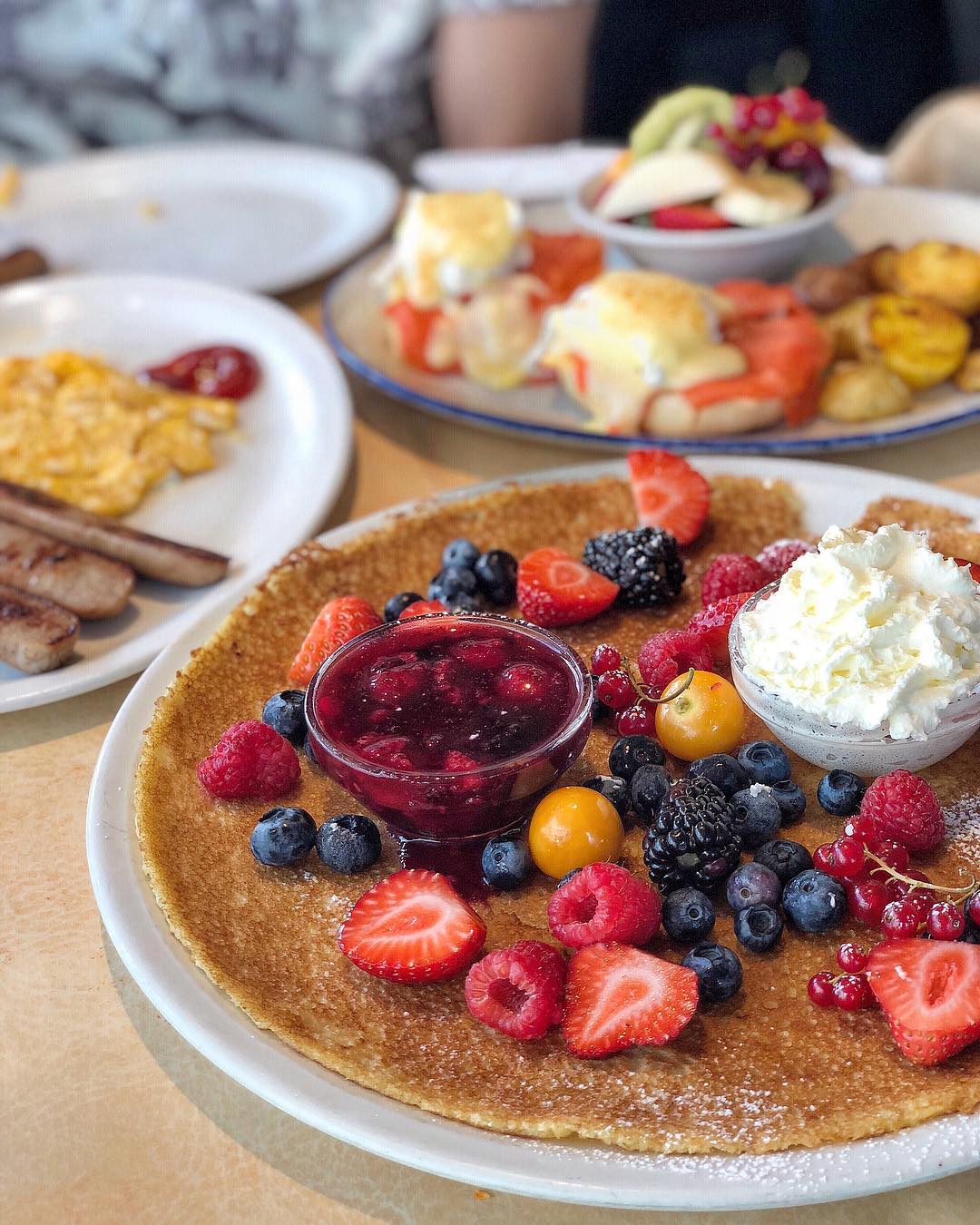 Photo credit: @eatswitheva / Instagram
Ukraine
Located in Uptown, Kozak Ukraїnian Eatery serves up authentic Ukrainian dishes and baked goods. Fall in love with classic Ukrainan cuisine like Borsch with Beans, Potato and Dill Varenyky (Handmade Pierogies), and their must-try Old-School Apple Strudel.
Which New West restaurants have you been loving? Let us know on social media by using the hashtag #MadeInNewWest. We hope you've been enjoying all the delicious restaurants in New West, and make sure to look out for part two of this blog post, where we'll be featuring even more amazing restaurants.