Moody Park, the starting location for this tour, was named for Colonel Richard Clement Moody of the Royal Engineers, who founded New Westminster in 1859.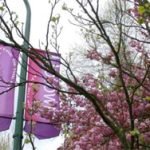 Recreational activities abound in Moody Park, with a fun children's playground, outdoor swimming pool, playing fields for soccer and softball, a lacrosse box, and the City's only lawn bowling facility. Its shade trees and garden areas also provide a quiet respite from the busy uptown.
Adjacent to Moody Park is Royal City Centre, the City's largest indoor shopping mall. Across the street at the New Westminster Public Library, enjoy the changing works of art in the upstairs Art Gallery, then walk through the stacks and enjoy the various other artworks on permanent display. If you happen to attend a performance or event in the downstairs auditorium, you'll be treated to a viewing of paintings by renowned local artist Joseph Plaskett, who captured city buildings on canvas.
Uptown New Westminster is the busiest part of town, with shopping, dining, and a wide variety of services lining 6th Street. Further along 6th Street is Mercer Stadium, featuring an excellent running track. Travel along Eighth Avenue and you'll pass Massey Theatre, the largest Lower Mainland theatre outside of downtown Vancouver. Performances and events range from the acclaimed local Royal City Musical Theatre to renowned talent from around the world.